Did your scraper get blocked again? If you're struggling to bypass your target site's anti-scraping mechanisms, using the best free proxies is a great first step.
In this list, we've compiled the best ten free proxy providers you can use in your projects with the highest reliability public proxies can provide:
1. ScraperAPI
Website: https://www.scraperapi.com
ScraperAPI is a web scraping solution with extensive functionalities to scrape even the toughest of websites.
Although ScraperAPI is mainly a paid tool, its free tier offers 5,000 API credits for 14 days and 1,000 free API credits monthly, giving you access to:
Over 40M IP addresses across 50+ countries
Smart IP rotation, which combines data center, residential and mobile proxies
99.99% success rates
Detailed API and proxy documentation
Structured data endpoints to collect JSON data from sites like Amazon, Google, and Twitter
and much more.
Unlike the other providers in this list, ScraperAPI gives you access to its proxies after creating a free account instead of leaving the proxy addresses out in the open for anyone and everyone to grab – which leads to IP misuse and bans rather quickly.
With ScraperAPI, free users have access to quality IPs just like paid users (including advanced functionalities like JavaScript rendering and CAPTCHA handling) but without the free-for-all mentality of most free proxy lists.
If you're looking for a free option that helps you get consistent and reliable results, create a ScraperAPI free account and start collecting data without getting blocked.
2. Spys.one
Website: http://spys.one/en
Spys.one is a proxy list database with IPs from 171 countries around the world, though many countries have only a handful of addresses originating from their locations.
There are more than 800 proxies available from each of the top three countries on the list (Brazil, Germany, and the United States) and thousands more from any country you can imagine.
The HTTP proxy list is broken down into subcategories, with sorting options like:
Anonymous free proxies
HTTPS/SSL proxy
SOCKS proxy
HTTP
Transparent
So users can narrow down the type of proxies they are searching for.
Each address is rated for latency, speed, and uptime.
As expected, most proxies have high latency and low speed, with uptime percentages averaging around 70%.
Proxies are also listed with a "check date," indicating when a proxy was last checked to be live. About a quarter of all proxies have been checked within the last 24 hours, another quarter checked within the last week, with the remaining half of all proxies on the list having been checked over a week ago.
Some of the more obscure countries haven't been checked in over a month and are most likely dead.
3. Open Proxy Space
Website: https://openproxy.space/list
Open Proxy Space presents free proxy lists divided into batches that can be downloaded in .txt format. Each batch is labeled based on when it was created, with each list containing only active proxies at the time of creation.
The lists are tagged with creation date, timeout of the proxies, and level of privacy – as seen in the image above,
Once a list is selected, users can choose which country or countries to include or exclude from the list, then export the IPs in a text document.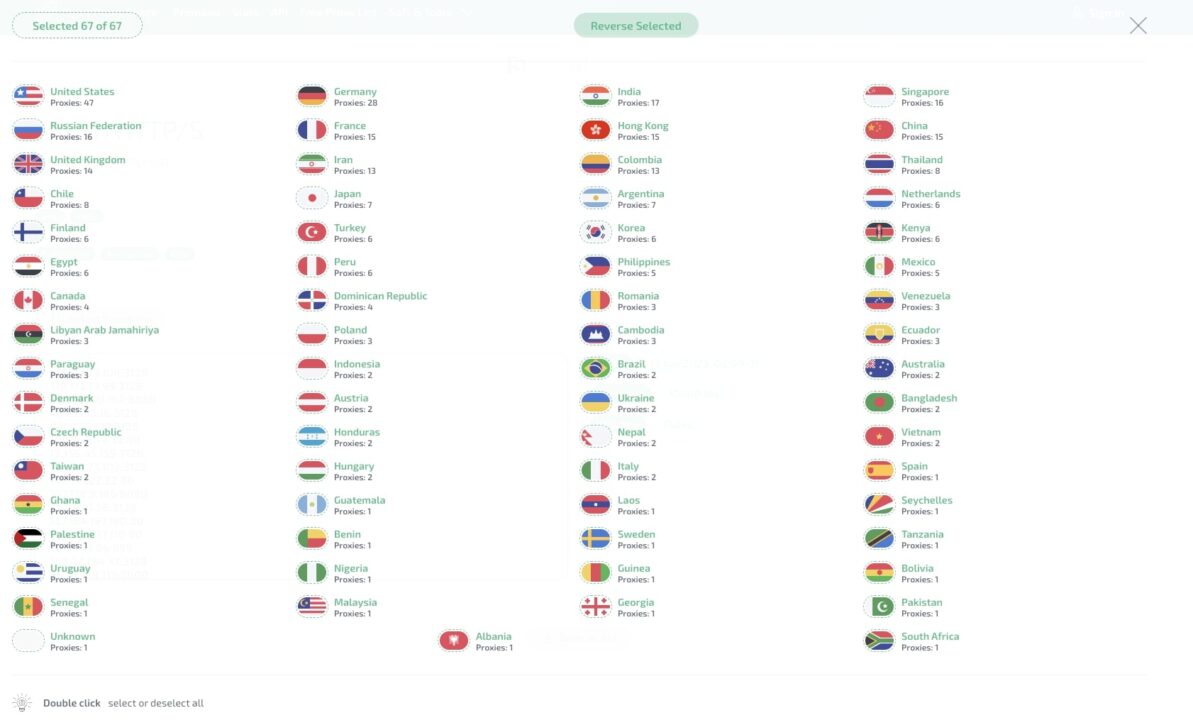 The sorting options are limited for freeloaders, with paid premium members having access to custom API scripts, ports, and more.
4. Free Proxy
Website: http://free-proxy.cz/en
Free Proxy looks like something fresh out of Bel-Air, and the list of over 17 thousand proxies is easy to sort and browse. Users can select from different protocols like HTTP, HTTPS, SOCKS4, SOCKS5, and anonymity levels like elite and transparent.
This provider has some interesting options that most of the others on this list don't have. Selecting the "Proxies by category" option at the bottom opens a page with some unique lists:
Proxies by port
Proxies by region
Proxies by city
Essentially, a user can select a free proxy from a proxy list by country and even specific cities around the world.
Ideally, this would be to emulate a certain location or to test access to content based on a world region. These sub-lists are alphabetized but, unfortunately, cannot be sorted in other ways.
5. ProxyScrape
Website: https://proxyscrape.com/free-proxy-list
ProxyScrape has your standard-fare list of free proxies with straightforward sorting options like country, anonymity, and SSL.
Sorting by country can be a little confusing, as it uses two-character country codes rather than the full country name or even a vastly more understandable three-character country code.
One stand-out feature is a "timeout" slider which permits a user to limit proxy results to those which meet or exceed a certain timeout threshold, measured in milliseconds.
Like several others on this list, they offer a premium service with rotating proxies and other advanced features. However, ProxyScrape doesn't have a free trial, so users will need to pay for those benefits, which defeats the purpose of getting free proxies to begin with.
Interesting Fact: ProxyScrape donates to several charities, including Teamtrees and the Animal Welfare Institute, although how one might help to contribute by using their free proxies is uncertain.
6. Free Proxy Lists
Website: http://www.freeproxylists.net
Free Proxy Lists has one of the simplest and easiest-to-use layouts of all the free proxy server providers reviewed.
It has HTML and HTMLS proxies exclusively, so those looking for SOCKS will need to search in another drawer.
You can specify search criteria like:
Country
Ports
Protocol
Anonymity options
Uptime
You can also sort the proxy list by region or city, but to find a specific location, one must sort the list and then click through up to 38 pages of proxies in order to find the city or region desired – the only major flaw to an otherwise easy-to-use list.
Each address has two color-coded bar graphs next to it, depicting the response and transfer levels, but there is no numerical data indicating what each level means, so it's only useful as a vague comparison to other proxies listed side-by-side.
Luckily, uptime is measured with a percentage.
7. SSL Proxy
Website: https://www.sslproxies.org
SSL Proxy has a tagline: "SSL (HTTPS) proxies that are just checked and updated every 10 minutes." This is not actually true, although all the proxies on the list have been checked within the last hour.
The free proxies are from various countries worldwide, but with a meager 100 proxies on the list, the availability is limited.
As expected, users can sort by country – this time with both the two-character country code and the whole name spelled out – and anonymous options, with nearly every proxy on the list being labeled as either anonymous or elite.
There is also a field labeled "Google," presumably having something to do with Google's acceptance of the proxy or possibly a proxy originating from a Google source, but at the time of reviewing, all of the addresses listed "Google" as "no," so we were unable to test its usage.
As one might expect from the name, this list contains only HTTPS proxies, with HTTP and SOCKS proxies being offered for a price.
8. FreeProxy World
Website: https://www.freeproxy.world/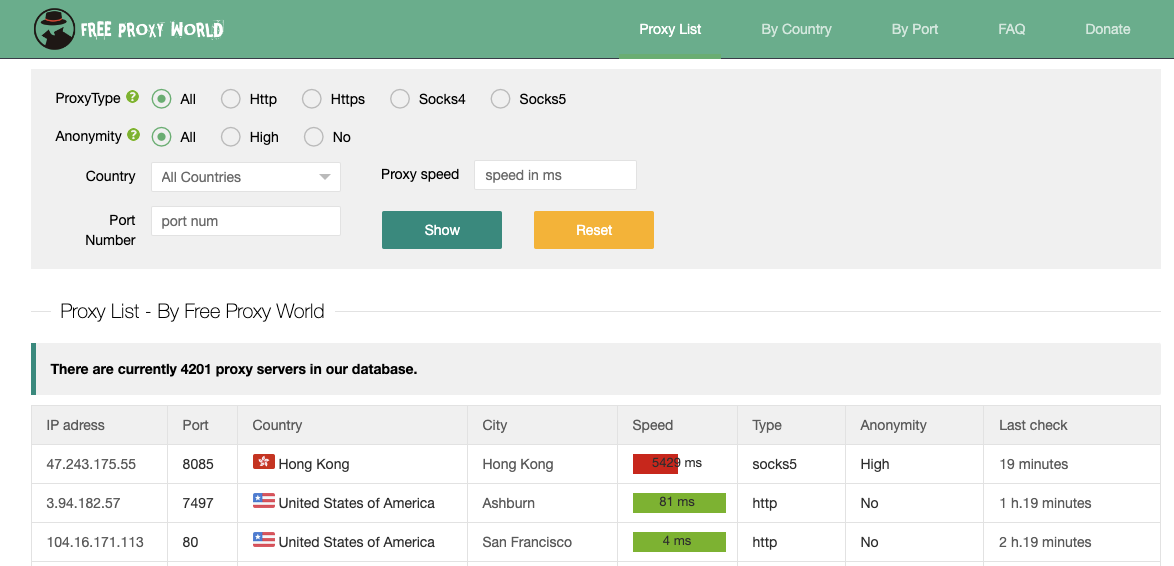 FreeProxy World offers high-quality proxies that can be easily sorted by:
Proxy type
Anonymity level
Country
Port
Proxy speed
Making it easy for users to find the right proxy.
However, as it's the case with most free and public proxy lists, the number of active proxies fluctuates aggressively.
To put it into perspective, in April, the list had over 25k proxies available, and it's now showing a little over 4k.
Still, it's a viable option if you want to test your scrapers before committing to a paid option. Just don't expect high or sustainable performance.
9. Proxy-List
Website: https://www.proxy-list.download/HTTP
Proxy-List contains over 5,000 unpaid proxies, and the list is checked every 2 hours on average.
Standard sorting functions provided by the other free proxy providers apply to Proxy-List as well, with the main lists sorted into four options:
One nice feature is the ability to export the proxy lists in several formats (including JSON, CSV, and TXT) and the ability to copy the data into your clipboard with the press of a button.
They offer API access to the proxy list and a Chrome extension for web scraping.
10. Proxy Nova
Website: https://www.proxynova.com/proxy-server-list
Proxy Nova provides a list of unpaid proxies that sorts the freshly-checked addresses to the top.
Unlike other free proxy lists, visitors to this website must manually refresh the page, which we kind of like. There is nothing more frustrating than finding a great free proxy IP address, only to have it disappear because the page auto-refreshed and you have no easy way of finding it again.
The proxies do stay pretty up-to-date; in our experience, proxies at the top of the list were never more than a minute old, and their speeds, uptime, and locations are all listed as well.
Sorting options are limited to country and anonymity only, and despite the frequent updates, there is no way of knowing how large the pool of free proxy IP addresses is.
Wrapping Up
As data becomes more and more valuable, even smaller sites are starting to implement advanced anti-scraping mechanisms, making it harder to access web data.
This also means that having high-quality and reliable proxies has become a critical asset in collecting data at any scale.
Although there are many free proxies providers out there, public IPs are not the best choice for web scraping. New proxies might work for a while, only to be blocked by more and more sites as their usage increases.
If you need to use free proxies for your next project, ScraperAPI uses machine learning and years of statistical analysis to choose the right IP address from a pool of over 40 million addresses worldwide to ensure a successful request.
Get access to a complete web scraping solution creating a free ScraperAPI account and enjoy:
5,000 free API credits
5 concurrent threads to collect data faster
US and EU geotargeting
JavaScript rendering
CAPTCHA handling
Get data from any website (big and small) with a simple API call.
Frequently Asked Questions​